If you are involved in the finance or crypto world, chances are you have heard of the renowned and popular Dogecoin.
In this article, we will discuss the specific question that has been on many minds: Is Dogecoin dead or is there still a possibility for it to revive and reach new all-time highs? Our primary focus here is to analyze the current state of Dogecoin and explore the potential for its resurgence. So, without any delay, let's dive right into our detailed examination.
Dogecoin's Rise and Fall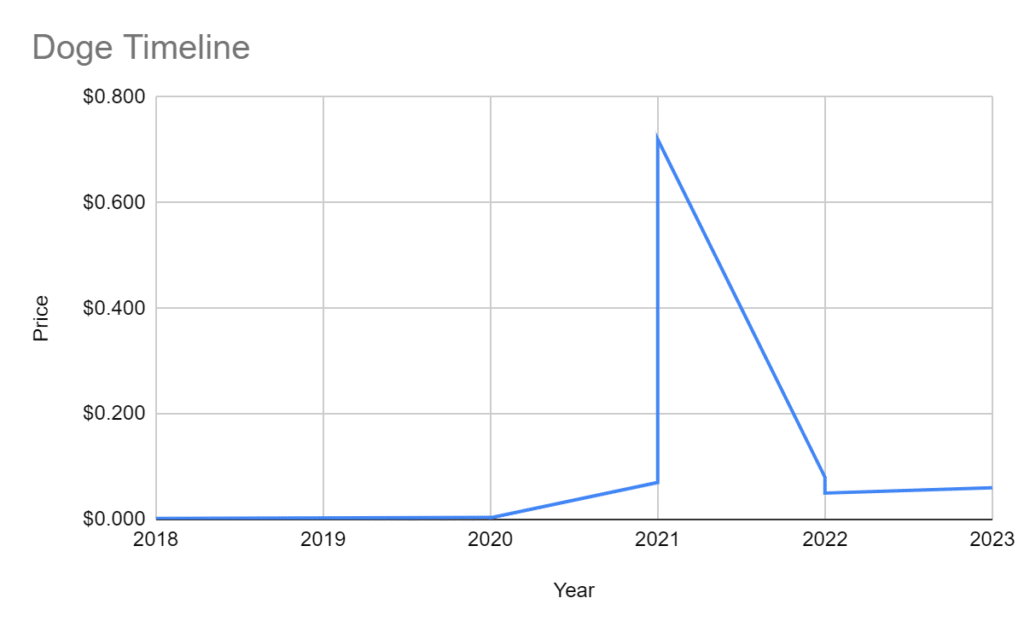 | | |
| --- | --- |
| Year | Price |
| 2018 | $0.002 |
| 2020 | $0.004 |
| 2020 | $0.003 |
| 2021 | $0.070 |
| 2021 | $0.310 |
| 2021 | $0.720 |
| 2022 | $0.080 |
| 2022 | $0.050 |
| 2023 | $0.060 |
Let's take a chronological look at the journey of Dogecoin. In 2018. Dogecoin had a humble value of $0.002. By 2020 it had experienced a slight increase and rose to $0.004. However, it was in 2021 that Dogecoin witnessed a significant surge in value reaching as high as $0.72.
This remarkable rise can be largely attributed to influential events like Elon Musks' promotion of Dogecoin on his Twitter account and viral TikTok campaigns encouraging widespread buying to boost its value to $1. As a result. Dogecoin gained considerable momentum and became the fourth-largest cryptocurrency by market capitalization. Peaking at $0.72. But things started to change for Dogecoin after reaching this peak.
From mid-2021 onwards Dogecoin experienced a decline along with many other cryptocurrencies due to various factors. The overall sentiment in the crypto market turned bearish because of market downturns and concerns over green energy.
Dogecoin mirrored this downward trend and faced a challenging period throughout 2022 reaching its lowest point in December of that year.
Fortunately. The year 2023 has shown promising signs for the crypto market as a whole. With a steady rise influenced by Bitcoins' upward trajectory. Just like many other cryptocurrencies. Dogecoin has seen a 50% increase compared to the previous year. It will be intriguing to observe how Dogecoin performs in the coming year within this evolving landscape.
Market Analysis
The present value of Dogecoin stands at 0.08434500, positioning it as the 10th cryptocurrency in terms of ranking. The circulating supply of Dogecoin is currently 142.06 Billion contributing to a total market capitalization of $11.97 Billion.

All Time High/Low
$0.731578/$0.000087
Circulating supply
142.06 B
Last updated on: 12/02/2023
In the past 24 hours, the price of dogecoin decreased by
-0.03%
. However, over the past 7 days, dogecoin has been struggling, with a decrease of
7.24%
.
This week, dogecoin is experiencing a short-term pullback, which might be an opportunity to invest if you are considering buying dogecoin. However, do take a look at the technical analysis before confirming the trend.
Please note that price data is updated every 24 hours.
| | Change % |
| --- | --- |
| Today | -0.03% |
| 7 Days | 7.24% |
| 14 Days | 0.49% |
| 30 Days | 21.76% |
| 60 Days | 35.51% |
| 200 Days | 17.22% |
| 1 Year | -15.05% |
This is the market sentiment as on : December 3, 2023 . The Sentiment data is updated every 24 hours.
Technical Analysis – Dogecoin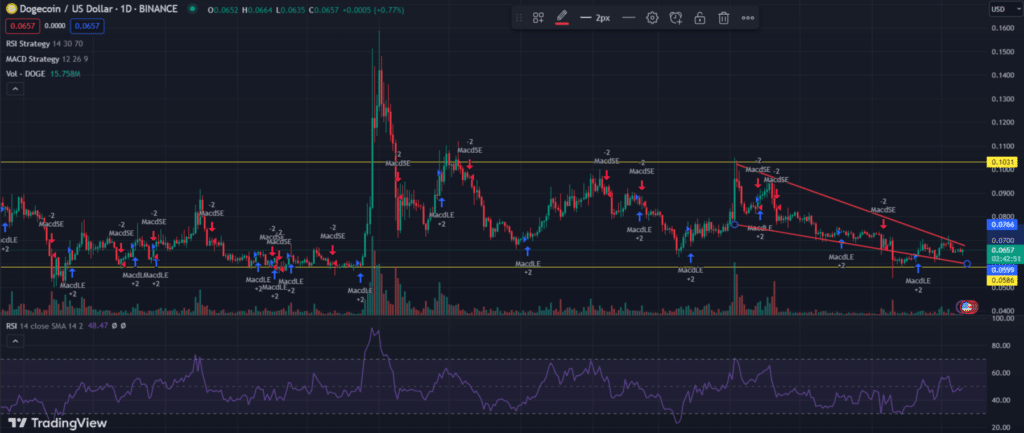 Dogecoin has a strong support line at $0.05, and if this support breaks, it may experience a significant downward movement and potentially revisit previous low prices.
The trend lines on the chart are converging, indicating a narrowing range and suggesting a potential breakout in the near future.
The volume for Dogecoin is currently in a balanced range, around 40 to 50, which implies a neutral sentiment.
Considering the technical chart analysis, Dogecoin appears to be in a consolidation phase.
The future price movement of Dogecoin will depend on various factors, including the overall performance of the crypto market and the movement of Bitcoin's price.
If Dogecoin breaks out on the upside, it could potentially reach a price level of $0.1.
Investor/Market Sentiment
The market and Investor sentiments have witnessed a noteworthy improvement in comparison to the previous year. Bitcoin, a significant driver of the overall crypto market has demonstrated stability by maintaining its position around the $30,000 mark, which is a yearly high.
This substantial 42% increase in Bitcoins' price has exerted a positive influence on the market sentiment. Affecting Dogecoin as well. Typically following Bitcoins sentiment. Dogecoin has observed a growth of approximately 50% from its value last year. Consequently. It suggests that the present market sentiment for Dogecoin appears to be positive. Should this trend persist. There is the potential for further appreciation of Dogecoin's value in the upcoming months.
Check Out: How to buy dogecoin on eToro
Chances for Revival
When considering the potential for Dogecoins' revival or rather to help us determine the answer to the question is dogecoin dead, several factors come into play. Let us keep a balanced approach and discuss them point by point.
One important aspect to consider is the efficiency of Dogecoin in transactions. Compared to Bitcoin. Dogecoin has a much faster transaction speed. With an average block addition time of around one minute. This significant speed advantage positions Dogecoin as a swift and efficient network for transactions. Which could contribute to its potential resurgence.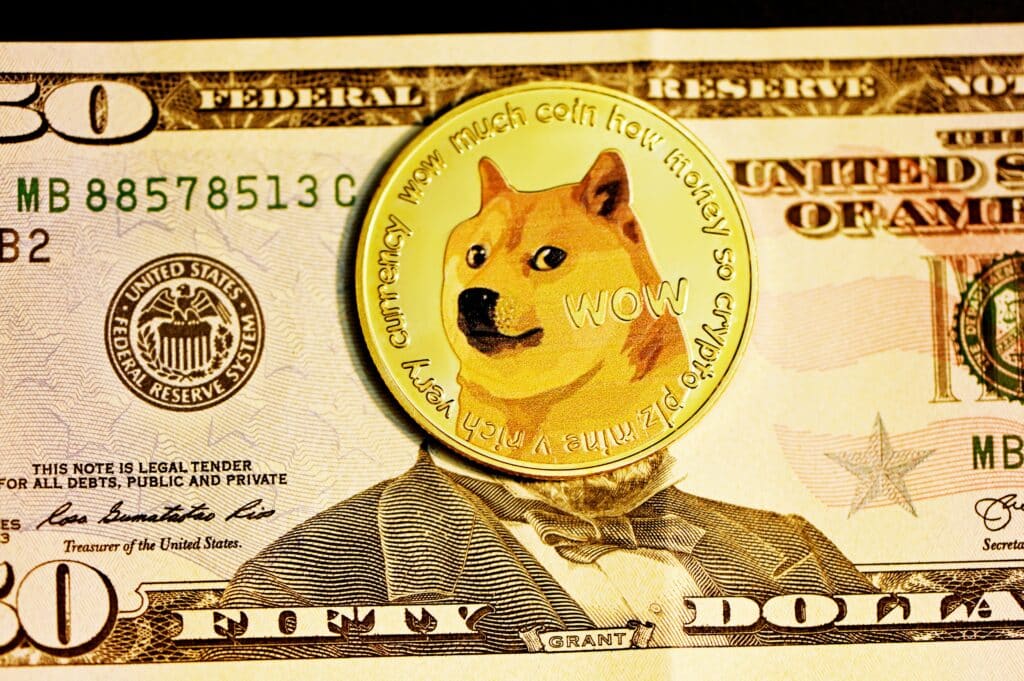 Another factor that provides hope for Dogecoin is the possibility that it follows a similar cycle to Bitcoin. If Dogecoin adheres to this pattern it may currently be in a consolidation phase. Following this logic there is a chance of witnessing an upward breakout in the future similar to what Bitcoin has experienced in the past. This parallel could serve as an optimistic indicator for those anticipating a potential revival of Dogecoin.
Additionally, the strength of Dogecoin lies in its dedicated and vibrant community. Unlike many other cryptocurrencies, Dogecoin has managed to maintain a strong following and support system. The value and utility of any cryptocurrency heavily rely on community engagement and adoption.
Therefore the robust Dogecoin community can play a crucial role in driving its potential revival as increased utilization across different sectors could contribute to its sustained growth.
However, on the flip side, there are challenges that must be addressed for Dogecoin to realize its revival potential.
One major concern is its limitless supply. With the possibility of up to 5 billion new Dogecoins entering the market each year. Maintaining a balance between supply and demand becomes crucial. The influx of new coins has the potential to impact the overall value and market dynamics of Dogecoin.

Also, the adoption of Dogecoin by various retailers and markets presents another obstacle. The volatility of its price makes it challenging for merchants to accept it as a reliable mode of payment. Stability and wider acceptance would be key factors in fostering greater adoption of Dogecoin in real-world transactions.
Final Take
Coming to the big question of whether Dogecoin is dead or still has a chance of revival, it is safe to say that it is not dead yet. Comparing its last year's price Dogecoin has seen an approximate 50% increase over the past year, indicating that there is still potential for growth.
However, it is essential to acknowledge the limitations imposed by Dogecoin's unlimited supply. This aspect introduces a level of caution for investors and suggests that Dogecoin should be viewed as a speculative play rather than a completely safe investment.
Monitoring crypto sentiments and market conditions is crucial, allowing for informed decisions on when to take profits as Dogecoin experiences breakouts. Holding Dogecoin for an extended period may not be advisable. Therefore, exercising diligence and discretion is key when navigating the Dogecoin landscape.