Do you want to buy Tesla Stock on eToro? In this article, we will guide you on how to buy Tesla stock on eToro and provide a brief insight into Tesla as an Investment and the eToro platform.
Tesla as you most likely know is the pioneer in electric cars . They started selling cars commercially a decade ago and have seen many ups and down since then and used to be considered one of most volatile stock in market.
However they are no longer as volatile as they used to be , they are now the first EV car maker who is actually profitable a feet that took a while for them to achieve.
eToro, on the other hand, is a reputable and user-friendly trading platform that allows users to invest in various cryptocurrencies, stocks, and ETFs. It offers a range of features and tools for beginners and experienced investors.
eToro is a zero-commission platform for stocks which means there are no transaction fees to trade stocks within the platform. You can buy and sell any number of stocks for no transaction fee on the platform.
Now, let's proceed with the step-by-step guide on how to buy Tesla on eToro.
How to Buy Tesla Stock on eToro
Step 1: Create an account on eToro
To get started, you need to create an account on eToro. Follow these steps: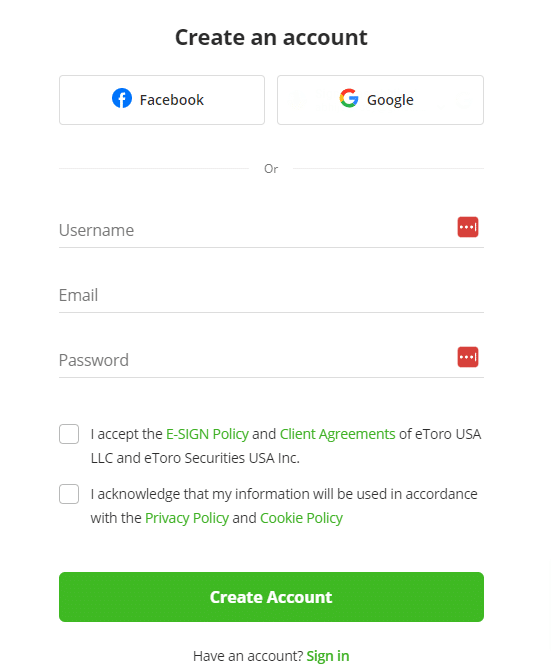 Visit eToro's official website at eToro.com
Click on the "Start Investing" or "Join Now" button on the homepage.
Provide your username, email, and password or you can sign up using your Facebook or Google account as well.
Enter your name, phone number, zip code, and birth date on the next page.
The same process can be applied to their mobile application as well.
You will also receive $10 worth of free crypto of your choice as part of the sign-up. If you want to be really safe then I would say go with Bitcoin or Ethereum.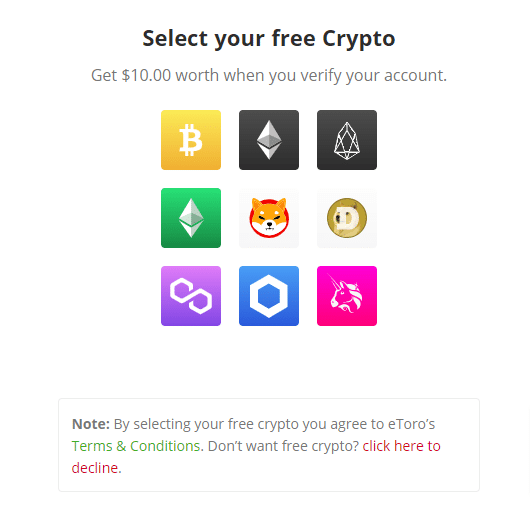 Step 2: Verify the account
Once you have created an account, it's time to verify it. Verification helps ensure the security and compliance of the platform. Here's how you can verify your eToro account:
Upload a Proof of Identity (PoI) document such as a passport, driving license, or government-issued ID for faster approval.
Upload a Proof of Address (PoA) document. You can use documents like bank statements, credit card statements, utility bills, tax letters, rental agreements, or letters from your local municipality.
You can easily upload these documents on the eToro app or their website.
Note: eToro is a reputable brand and you can rest assured about the security of your personal documents.
Also, Read
Step 3: Fund your eToro account
After your account is verified, you can proceed to fund your eToro account. eToro supports various payment methods, including credit cards, debit cards, PayPal, online banking, and bank transfers. The minimum deposit required to buy any Stock on eToro is just $10.
Step 4: Search for Tesla
Once you have funded your eToro account, navigate to the eToro dashboard and find the search box. Type "Tesla" and select Tesla from the options.
And then click on the Trade button next to Tesla, this will navigate you to the Trade page.
Step 5: Buy Tesla
On the Trade page, you will see the current price of Tesla, Amount, and Order type. You can enter the amount in US dollars that you wish to invest. You can only buy Tesla at the Market price or set a limit price.
For that you can set the order type as Limit, by default this would be set to Market. Please note that market orders are executed instantly and since the prices fluctuate very often it is recommended that you place a Limit Order to ensure that you buy the stock at your desired price point only.
A limit order will be executed only when the exchange hit that exact price.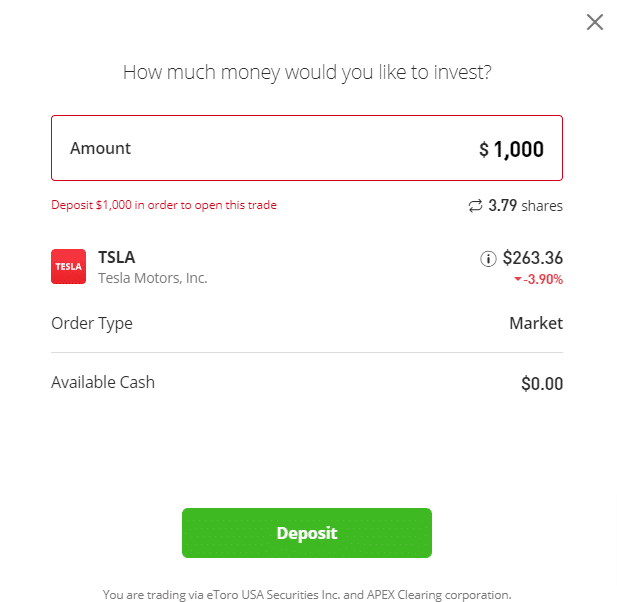 If you had not yet deposited any money yet it would ask you to deposit the money at this step which you can do through Paypal or a bank account.
If you have already deposited money in step 3 then you would see a buy button to get your order placed.
Congratulations! You have successfully bought Tesla Stock on eToro.
How to sell Tesla Stock on eToro
The selling part is very much similar to the buying process.
To sell Tesla on eToro, you can follow these steps:
Go to the Tesla trading page or visit your portfolio page on eToro.
Specify the selling price. If you want to sell Tesla immediately, go with the current price.
If you want to sell your coin for a higher price, set the price above the current price. You can adjust the price using the Plus or minus option or directly enter your desired price.
The Trade will be executed only if your Transaction Point is met. As mentioned previously this is always a safer option unless you just want to sell at price because remember the prices could drop within a second as well so you may get executed at a lower price as well if you go with the current price.
The example below shows a Bitcoin however the user interface for Tesla would be exactly the same.
Pros and cons of using eToro
Using eToro for cryptocurrency investments comes with its own set of advantages and disadvantages. Its always good to look at both sides of coin before investing so Let's explore them:
Pros
Safe and secure platform
Ideal for beginners
Offers stocks, crypto, and ETF investing in a single place
Low transaction fees
$0 fees for stock trading
User-friendly mobile app
Only requires a $10 deposit to start investing
24/7 customer support
Cons
A limited selection of cryptocurrencies
Crypto transaction fees may be higher compared to exchanges.
EToro does not offer any staking products.
FAQ
Can you buy Tesla with eToro?
Yes, you can buy most of the stocks traded in the US stock exchange with eToro. Please note that you may not find many OTC (over-the-counter) or pink sheet stocks in eToro.
What are the withdrawal fees on eToro?
Yes, all withdrawal requests are subject to a $5 fee. Apart from that any withdrawal requested other than USD currency will incur the applicable conversion fees. This is slightly on the higher side compared to some other platforms.
How much does eToro charge to buy stock?
No there are no charges from eToro to trade stocks in the platform. It is a zero-commission platform for stocks like most of the new Zen trading platforms.
Does eToro charge inactivity fees?
Yes, if you do NOT log in to your account for more than a year then a monthly inactivity fee of $10 fee is charged on eToro. However, if you do log in at least once during this period then there are no charges.